Expert Ceramic Coating Spring TX Installation
Fireball Ceramic Coating Spring TX
Highest SI02 Ceramic Coating % In The World
Fireball Coatings have the highest SiO2 content on the market. Not only are they a combination of 5 types of Si and SiO2 raw materials, they also blend extremely well together, providing properties that excel in various environmental situations like Chemical Environments/Applications or even High-Temperature environments!
Dual-Bonded SIO2 Molecules
Fireball coatings are made with the only ceramic coating that has dual-bonded SiO2 molecules. The bonding creates better surface integrity, finish clarity, and depth while increasing micro scratch resistance! Plus it allows true self-healing properties.
Titanium & Scratch/UV Resistance
Fireball Coatings provides the best coatings in their industry with a high amount of titanium to provide excellent UV protection and break down surface contaminants.
Dual-Bonded SIO2 Molecules
The Fireball Coating achieves a hard-shelled surface by undergoing an incredible chemical reaction. The ceramic coating first binds to the object it's being applied and then has its best qualities locked in during this last stage, when all traces of liquid have dried up into solid form — making for better gloss levels than any other brand on market!
Ultimate
Duration: 3 Days
Two stage polish and prep

Fireball Butterfly top of the line coating applied, layered with Fireball Typhoon for a slick finish

Wheels removed. deep cleaned, and ceramic coated

Interior leather, exterior lights, and exterior plastics ceramic coated
One stage polish to add clarity and gloss to the paint

Application of Fireball Silla, layered with Fireball Typhoon for a slick finish

Wheels removed, deep cleaned, and ceramic coated
One stage polish to add clarity and gloss to the paint​

Application of Fireball Devil's Blood, layered with Fireball Typhoon for a slick finish
One stage polish to add clarity and gloss to the paint

Application of Fireball Aegis
Ceramic coating Spring TX is a process that coats your vehicle in a protective layer of ceramic. This layer shields your car from the elements and helps to keep it looking new for longer. Not only does this process provide protection against the weather, but it can also help to reduce wear and tear on your vehicle's paint job.
One of the best things about ceramic coating is that it can be done quickly and easily. In just a few hours, your car can be coated and ready to go. Plus, the coating will last for years, providing long-term protection for your investment.
If you're looking for a way to keep your car looking new for longer, ceramic coating is definitely the way to go. Contact us today to learn more about this process and find out if it's right for you.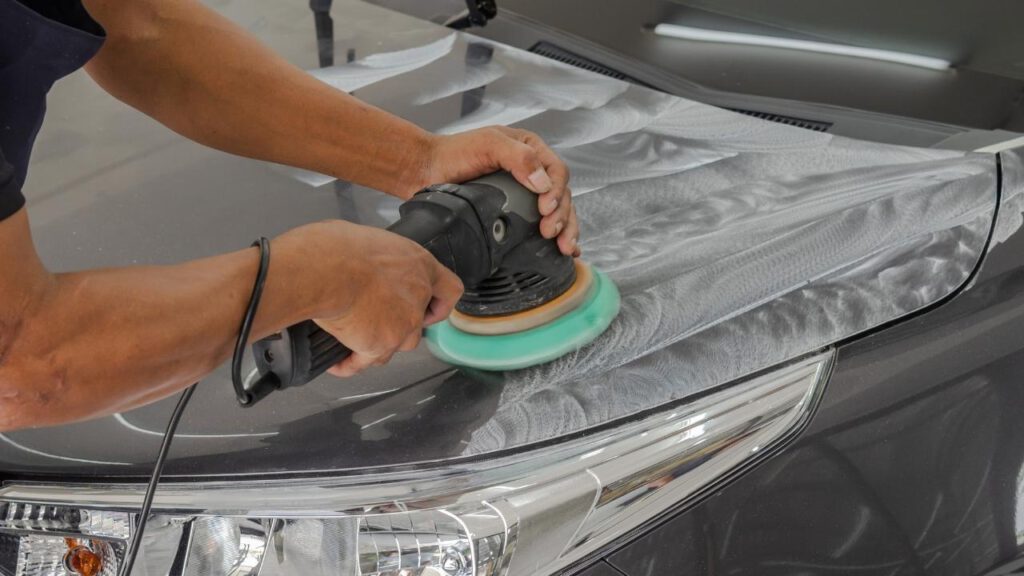 Why Choose Divine Shine Auto Spa For Your Ceramic Coating Services In Spring TX?
There are many reasons to choose Divine Shine Auto Spa for your ceramic coating services. We have a team of experienced and certified professionals who will take care of your car and give it the perfect ceramic coating finish. Our location in Spring, TX makes us easily accessible to everyone in the area.
We have a proven track record of offering excellent-quality services to our clientele. We incorporate the newest technology and instruments to guarantee your vehicle's finish remains no exception. We utilize the most current technology and equipment to ensure your vehicle's finish remains unrivaled.
We use only the best products and materials for our services, so you can be sure that your car will be well taken care of. Additionally, we offer a wide range of other car detailing Spring TX services such as paint protection film Spring TX, window tinting, and more. So if you're looking for a one-stop shop for all your auto detailing needs, Divine Shine Auto Spa is the place to go!
Get the Ultimate Protection for Your Vehicle with Ceramic Coating!
A ceramic coating is a layer of protection that you can apply to your car's paint job. Not only does it make your car look shiny and new, but it also protects the paint from scratches, chips, and other damage.
Ceramic coatings are available at most car detailing shops and are relatively affordable. The process of applying a ceramic coating usually takes just a few hours, and the results last for several years.
One of the main benefits of using a ceramic coating is that it keeps your car looking new for longer. A well-maintained car with a ceramic coating can easily pass for a brand new vehicle. Additionally, if you ever decide to sell your car, having a ceramic coating will increase its resale value.
A ceramic coating is a great way to protect the paint of your car without having to use harsh, chemical-laden cleaners. You can have peace of mind that your vehicle will remain clean and safe for many years to come.
Ceramic coating an excellent way to keep your vehicle looking great is to cover it with ceramic coating. A ceramic coating serves as a barrier to dirt, rocks, and other shards of debris, keeping your vehicle s paint looking new. Such protection also helps your car shield from ultraviolet damage, keeping your paint job in pristine condition for a very long time.
Great service, super fast. They did a fantastic job and charge decent prices.
IMPRESSIVE!!! Albert did an amazing job, his attention to detail is unmatched. Thank you for taking a last minute call. My car looks brand new....worth every penny. Very professional service
Did a tremendous job inside and out. Left my truck looking showroom fresh.
Abraham Garcia
2021-06-24
Professional! Always answers the phone! Comes on time. Doesn't get annoyed even if you at picky. Does a great job and doesn't try to over sell you.
I truly enjoyed my headlight polishing service from Anointed Mobile Detail. The owner was beyond professional, on time, respectful, and did amazing work!! I will definitely be using Anointed Mobile Detail again in the very near future.
He always does my car and does a fantastic job getting it clean and in tip top shape!
sara mock-mason
2021-05-19
My mobile grooming unit is my pride and joy and she needed a spa day! I am happy to support another local small business. This business is owned by a hard-working professional who is friendly and easy to communicate with. I'm glad I trusted him with my baby. I couldn't be happier with the quality of his service.